The G Suite from Google
The G Suite from Google is used in many companies to manage emails, contacts, appointments, documents and much more. 
The G Suite is one of the competing products to the classic Microsoft Office Outlook integration and falls into the groupware category. We would like to introduce the G Suite Connector for MyOdoo and ownERP. The Connector has by and large the same functionality as our Office or Exchange Connector. Smaller exceptions are shown in our documentation. After you have installed the Odoo G Suite Connector you can set up your user. For this purpose go to the page Developers.google.com and log in here with your Google Account. Here you have to create a new project to create your Client ID and the Client Secret. How to do this can be found in our documentation in our Wiki. We will now show the link here. The detailed explanation would go beyond the scope of this Odoo Video. Therefore I will show you how to create Client ID and Client Secret in your user.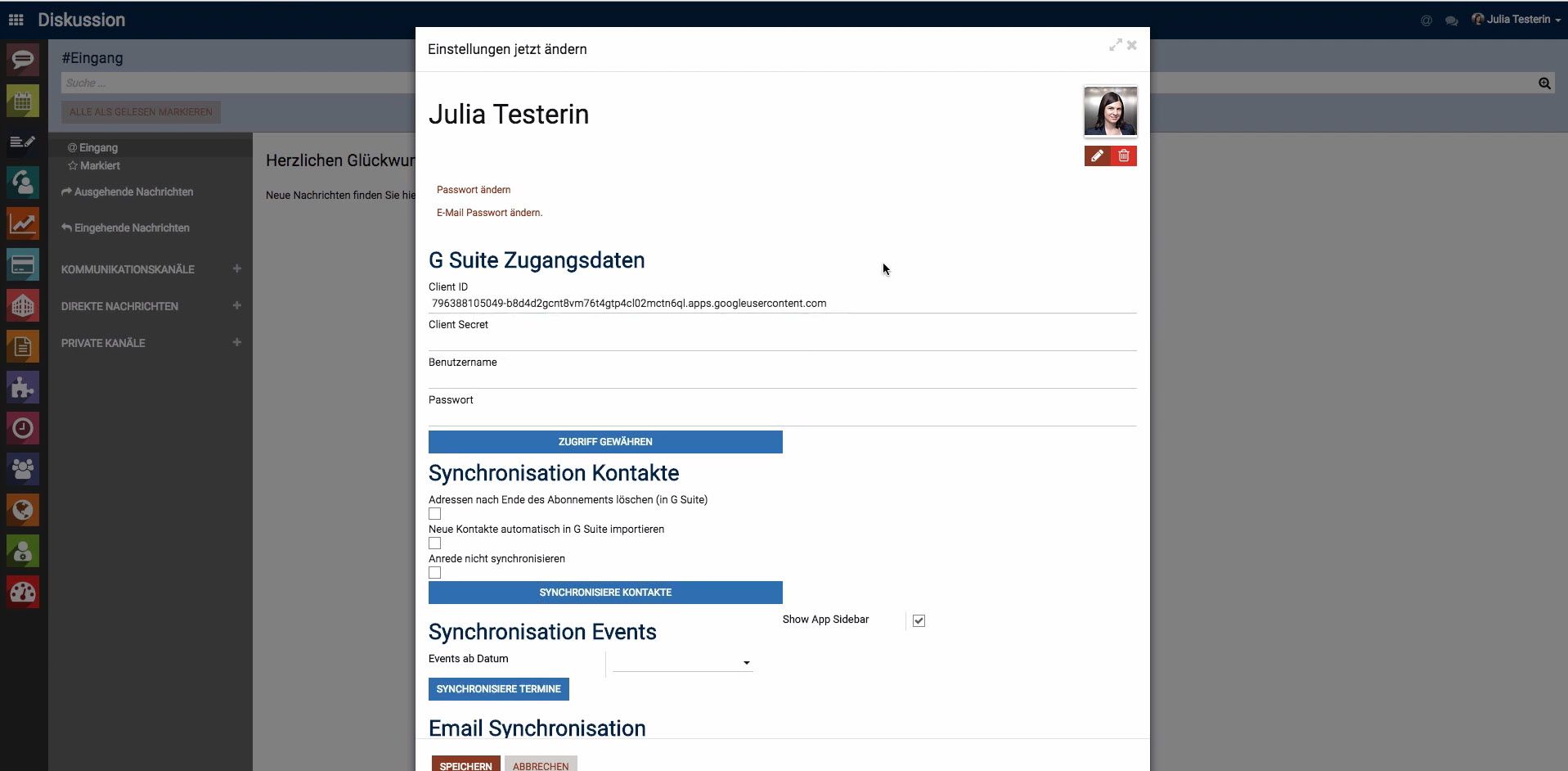 Go to the user settings of your account and enter your Client ID and Client Secret here. Also fill in your username and password. Now select the "Grant Access" button to confirm your access to G Suite. You will receive a positive message that your registration was successful and the access token has been saved.

Admin Accounts can define a G Suite account as default mail server via the email settings. System mails are then sent via this server. If you have changed the material sending in the users to the rest of the G Suite API, you can send emails directly from Odoo to contacts via G Suite. You will find your Gmail account in the Send or Sent folder.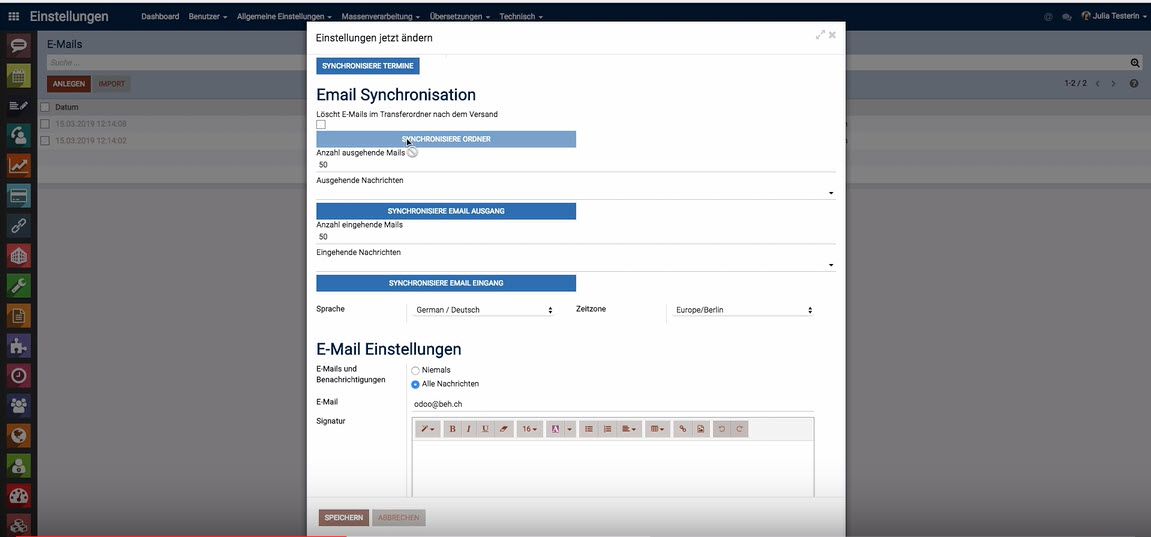 To synchronize emails, you must first synchronize the G Suite folder structure in the settings, then select a folder of your choice from the drop-down menu. Also for inbox. It is also possible to synchronise sublabels, i.e. so-called subfolders in G Suite. You can define the number of incoming or outgoing mails you want to synchronize yourself. This number can be changed at will. Initially this value is always set to 50. Save the settings once, start the sync or wait until the cronjob has automatically synchronized the folders.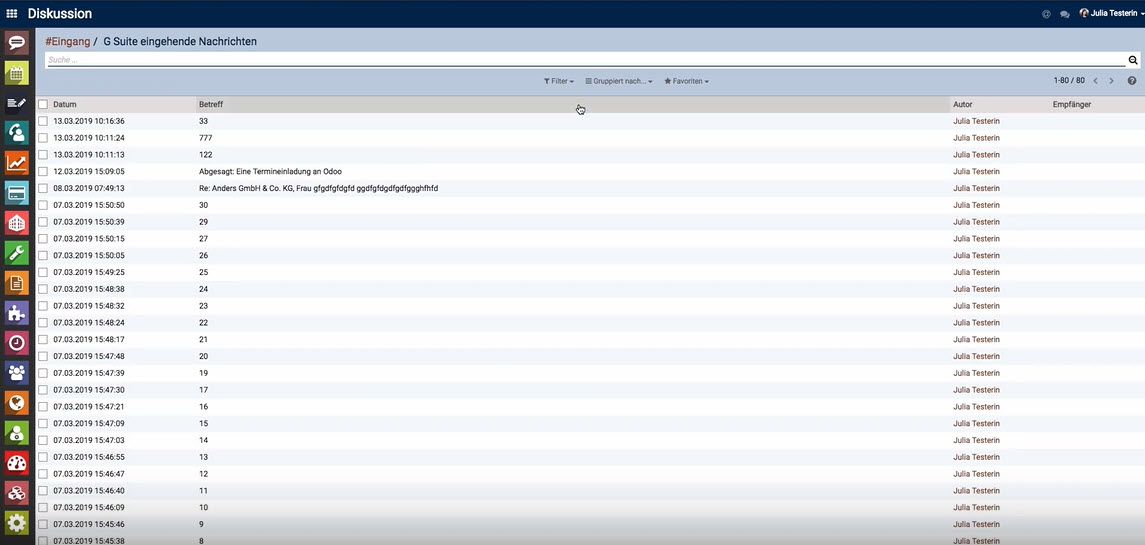 If we now go to the discussion of incoming messages, we see that 80 emails from G Suite have been created there. I now have the option of importing these emails and assigning them to contacts or importing the emails and deleting them from the temporary table right here. If I do this, you will see that the mask was taught here afterwards. Emails in G Suite are of course not deleted, only the duplicates here in this temporary table. If we now jump to a contact, we will see that the imported mails can also be reached here via the smart buttons. Now let's have a look at the contact synchronization in Odoo. You can synchronize single or all contacts at once.

I just want to synchronize the first 40. Using the multiple selection I can add the import button for the import into G Suite. If I now jump to one of the contacts, I see that this flag is active. With the synchronization button or the automatic cronjob I can now synchronize the contacts. If I have activated this action and remove the Import to G Suite button in a contact, it will be automatically deleted in the G Suite contacts the next time the cronjob is run. I can automatically import new contacts into G Suite and I can decide if I want to synchronize the salutations, i.e. the titles. If you play the contacts on your mobile phone as well, you might get problems with the salutations and leave them out during the synchronization. In our case we don't need this at the moment. I now start the sync.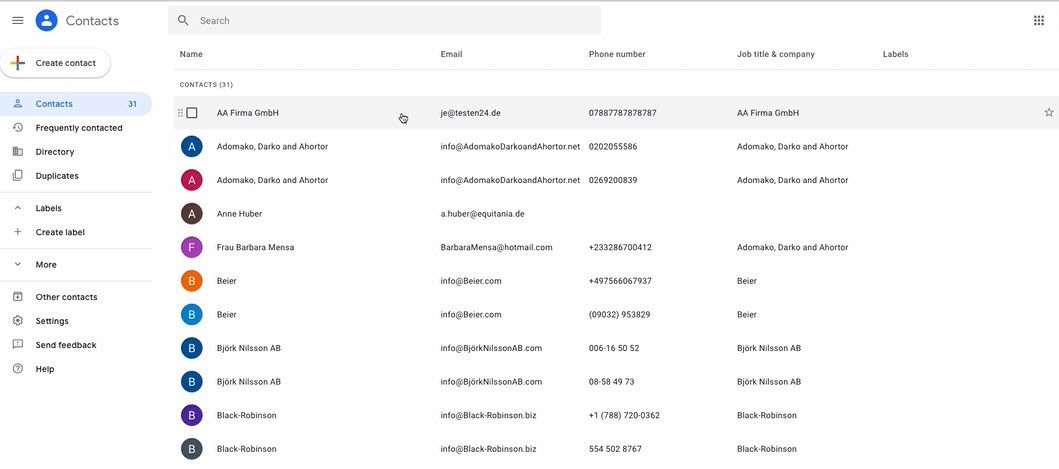 Now when I jump my Google contacts, I see exactly that these 40 contacts have been synchronized. In the same way I can now remove contacts from G Suite. I want to remove 10 contacts from G Suite. Select the Remove from G Suite Import option, I can look at the contact again and see that the flag is now set to inactive here below. And will notice that when I resynchronize the contacts or the cronjob has run, the number of contacts has been reduced to 30. I'll show you how to create a new contact.
Sobald ich den Kontakt abgespeichert habe, wird hier unten der G Suite Importhaken aktiv gesetzt und ich habe den Kontakt hier in meinem Google-Kontakten enthalten. Innerhalb von Odoo haben wir die Standardfilter erweitert, sodass Sie nach Kontakten suchen können, die Sie in G Suite importiert haben, eben hier aktuell meine 31 Kontakte. Aber auch einen Filter, der Ihnen Kontakte anzeigt, die eben aktuell nicht in der G Suite importiert sind. Für diese können Sie den Importhaken anschließend über die Mehrfachauswahl setzen. Schauen wir uns nur noch gemeinsam die Synchronisation der Termine an. Es ist dazu zwingend nötig, dass Sie in den Einstellungen ein Startdatum in der Vergangenheit setzen. Wir können dann die Termine aus G Suite importieren.
Wenn ich die Maske nun einmal aktualisiere und auf die Monatsansicht umschalte, sehe ich nun, dass verschiedene Termine im März und im Februar synchronisiert wurden. Sie können die Synchronisierung auch über diesen Button direkt in der Kalenderansicht starten. Ich hoffe, ich konnte Ihnen mit diesem Video weiterhelfen und Ihnen die Vorteile vom Odoo G Suite Connector näher bringen.
Viel Spaß beim Anschauen des Videos.
Lesen Sie hier auch die ausführliche Moduldokumentation