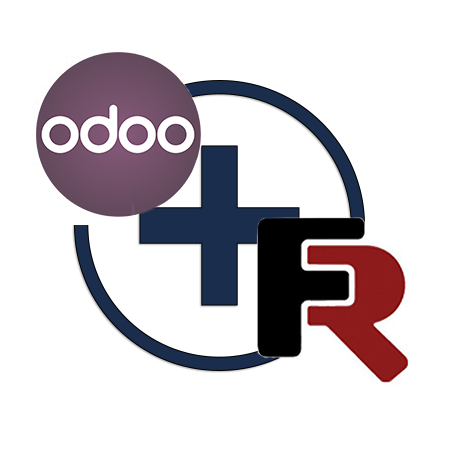 FastReport für Odoo
Creating and modifying printouts has always been "the biggest pain" of our customers and users in our Odoo projects. By means of an exclusively developed integration of the FastReport Engine into Odoo systems, reports (business printouts) can be customized very easily by you without any programming knowledge. Provision of the most important external documents for the German-speaking region incl. orders, delivery bills, invoices, etc.


                Für Version: In der Regel ab Odoo 14 oder höher
              
Modulpreise auf Anfrage
Das FastReport Server Modul obliegt einer proprietären Lizenz und setzt einen Docker Container mit .NET Core 3.x oder höher voraus. Der Preis richtet sich nach der Anzahl der Benutzer. Unser Vertrieb unterbreitet Ihnen gerne ein individuelles Angebot.
Ready to go
Clear and structured
paper templates
Adapted according to
German law
Wir liefern die gängigen deutschen / englischen Geschäftspapiere als FastReports für Angebot / Auftragsbestätigung, Kommissionierung, Lieferschein, Rechnung sowie Bestellung, Einkaufsbestätigung und weitere Belege mit dem Paket MyOdoo FastReport aus. In einem Basisreport wird das Layout für alle FastReports zentral definiert. Die Geschäftspapiervorlagen sind einfach und daher sehr übersichtlich gestaltet. We deliver the common German / English business papers as FastReports for offer / order confirmation, picking, delivery bill, invoice as well as purchase order, purchase confirmation and further documents with the package MyOdoo FastReport. The layout for all FastReports is defined centrally in a basic report. The business paper templates are simple and therefore very clearly designed.


In our FastReport package you get a license of our FastReport Designer optimized for Odoo.
More informationen for technical users:
With the FastReport license, for example, you can also create completely individual, custom reports. Unlike the standard reports in QWeb from Odoo, which are very technical and can only be customized based on source code, you only need a very short training period for FastReport. We will be happy to help you with training.
In addition, FastReport Designer supports over 25 barcode formats, various graphic formats (pixel / vector), subreports and table formats, overlay, WYSIWYG editor, export formats such as PDF, Office formats such as Excel, Word or OpenOffice. Connection with other data sources is also possible.
Odoo and FastReport can be directly coupled via Docker containers and exchange data in a secure way. This is based on a Docker Image .NET Core. The report templates can be viewed and exchanged via WEB GUI. But this can also be done via the file transfer integrated in the designer. So you can also test the reports with live data in WYSIWYG mode before they are published. The exchange of data between Odoo and FastReport is done using SQLite databases, i.e. only the data for the current printout is packed into an SQLite database and then transferred to the Fast Report Engine. Additions to fields can easily take place via the Odoo backend or also using the Python library.
FastReport unterstützt zwar formatierte Textblöcke, allerdings werden nur die Formatierungen für
bold / fett , italic / kursiv und underline / unterstrichen unterstützt.
Für FastReport gibt es ein deutsches
Multi Company & Enterprise Unterstützung
Wir unterstützen ebenfalls die Multi Company Funktionalität ab der Odoo Version 12 und die Enterprise Versionen ab Odoo V13.
You can find the detailed module documentation in our Wiki

You can download and view our MyOdoo sample reports here.
Download our current Basic FastReports for Odoo Version 12 as PDF. The PDF includes the basic reports from purchasing, sales and stock. There are some more internal documents which we have revised and which are also included in the package, e.g. reports from time recording, personnel and different labels. Version 12 and 13 reports are identical.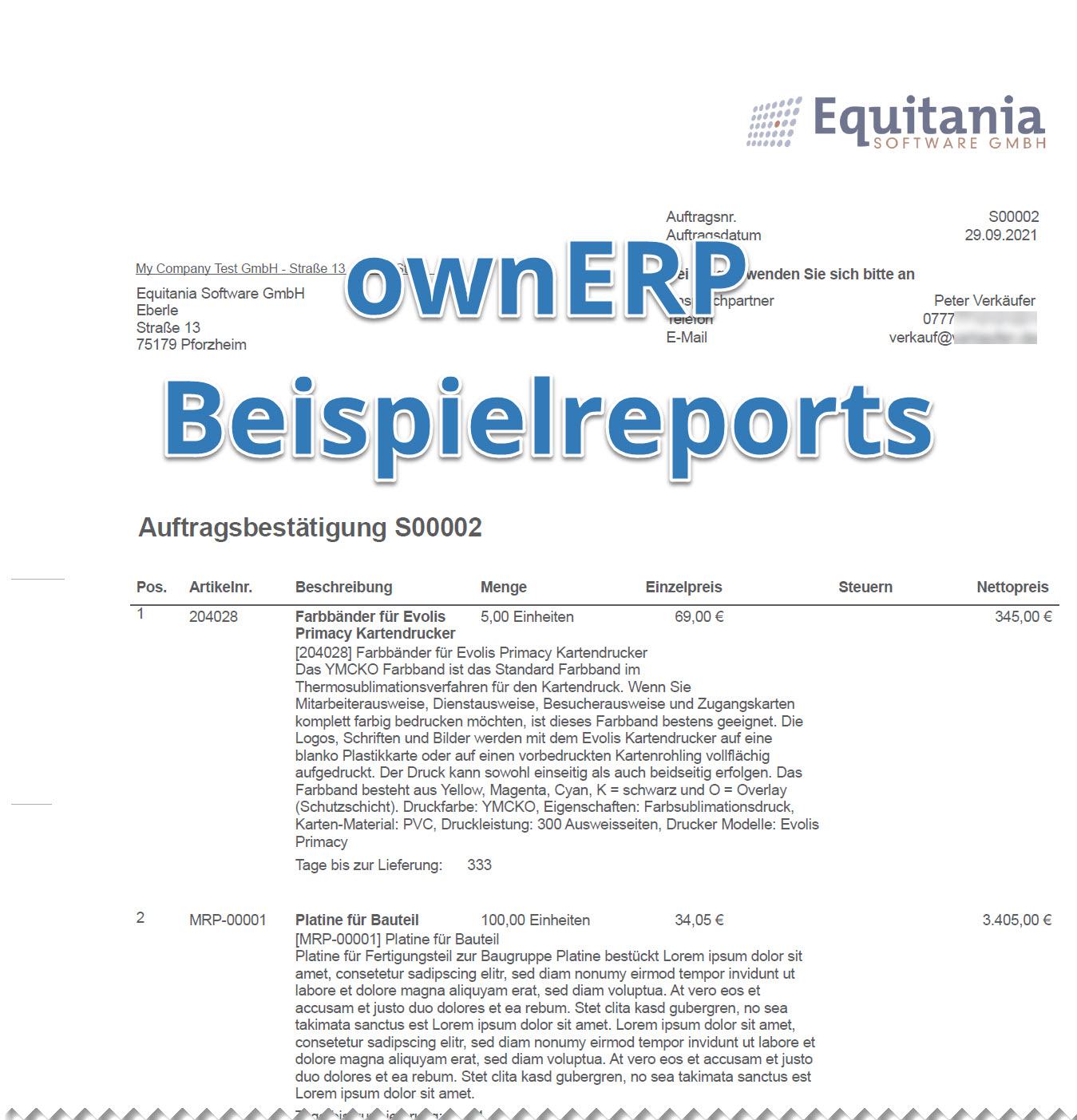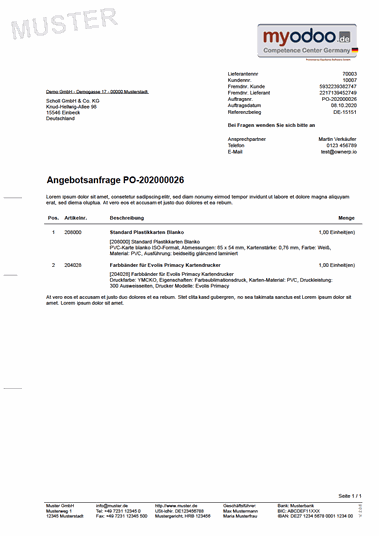 Order quotation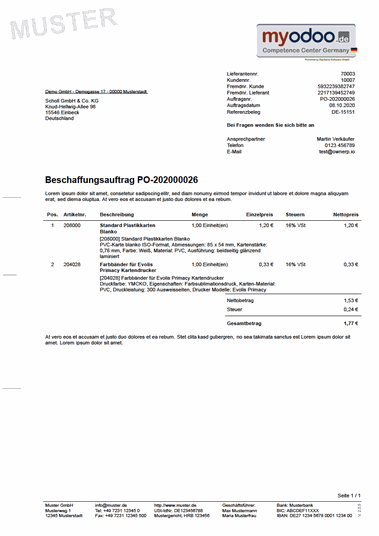 Purchase order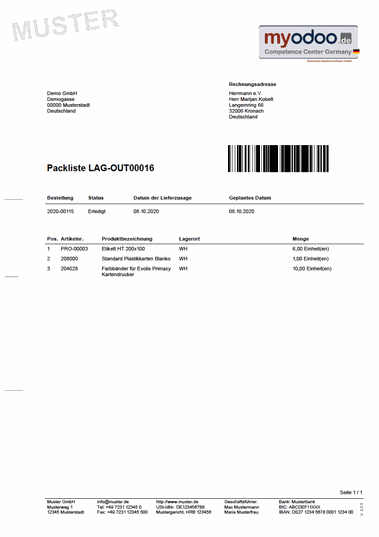 Packing list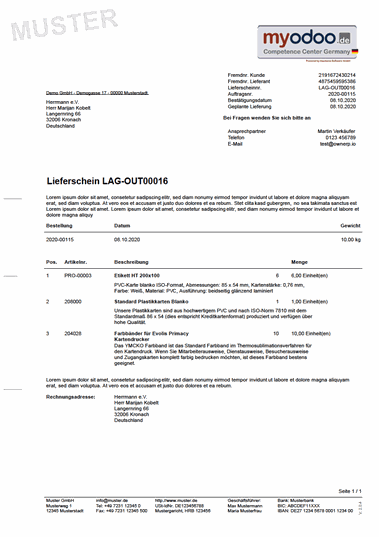 Delivery note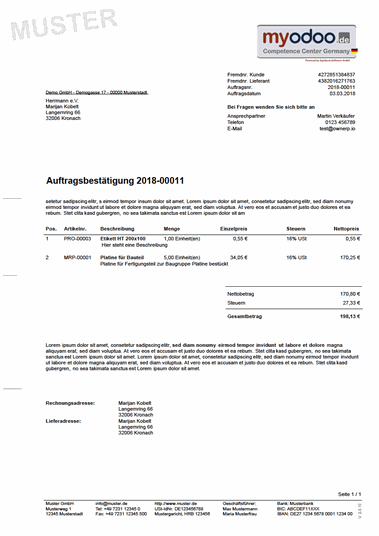 Order confirmation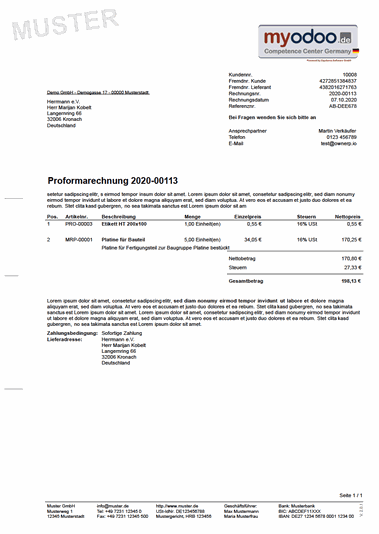 Proforma invoice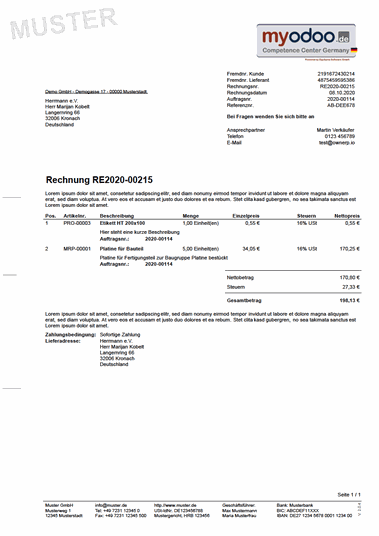 Invoice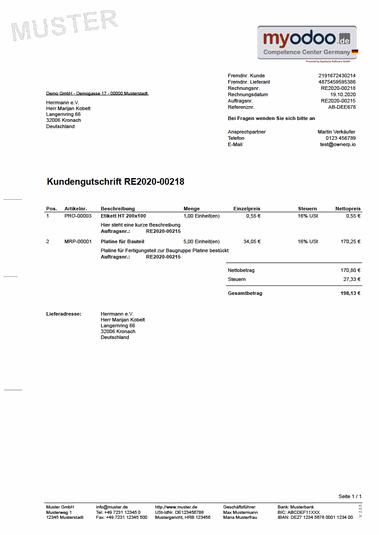 Credit note
Starten Sie noch heute Ihre Anfrage zu unseren Paketen!

Unser Team wird Sie gerne beraten.