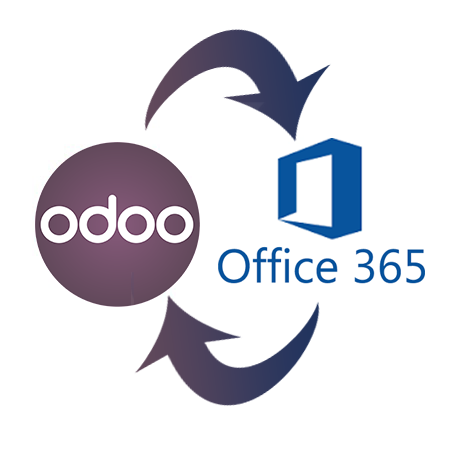 Microsoft 365 Outlook Connector für Odoo
Odoo Anbindung an Office 365. Wir nutzen hier die Microsoft Web-API.

Import of appointments

Import of incoming and outgoing Mails

Mailversand direkt aus Odoo über REST-API

Synchronisation von abonnierten Kontakten direkt in den Outlook Client
Für Version: In der Regel ab Odoo 14 oder höher 
Modulpreise auf Anfrage
Der Preis richtet sich nach der Anzahl der Benutzer. Unser Vertrieb unterbreitet Ihnen gerne ein individuelles Angebot.
E-Mails
With Mails Microsoft Office 365 is leading system.
You can define a folder for incoming mails and a folder for outgoing mails within your inbox.
These mails are then synchronized in your Odoo system and assigned to the contacts (customers/suppliers) with a suitable e-mail address.

Optionally you can have the e-mails deleted after the transfer.*
Appointments
As with e-mails, Microsoft Office 365 / Exchange is the leading system for appointments.
As with e-mails, Microsoft Office 365 / Exchange is the leading system for appointments.
We support:
Individual appointments

Series Appointments*

Group appointments

Private appointments

Participants**
Contacs
With contacts it is exactly the other way round. Odoo is the leading system.
Many employees maintain contacts in Outlook only sporadically. Since address and contact maintenance is indispensable in merchandise management processes, the data is synchronized from Odoo to Microsoft Office 365.
All contacts* that the user has subscribed to via the "Follow" function of Odoo are synchronized.
Optionally, the contacts are removed from Outlook after the subscription ends.
Existing contacts are not changed in Outlook.
You can find the detailed module documentation in our Wiki

Package components
This package essentially consists of the modules:
eq_office365

eq_o365_api


eq_pw_encryption

Subject to change without notice.
Starten Sie noch heute Ihre Anfrage zu unseren Paketen!

Unser Team wird Sie gerne beraten.