Nextcloud Connector für Odoo
Functional extension for the document management of Odoo.
Freidefinierbare Ordnerstruktur für Kunden&Lieferanten, Verkaufschancen, Produkte, Personal

Smar-Buttons für Ablage-Mappen

Categorization of documents and data models

Synchronisation zu Nextcloud
Für Version: In der Regel ab Odoo 14 oder höher 
Modulpreise auf Anfrage
Der Preis richtet sich nach der Anzahl der Benutzer. Unser Vertrieb unterbreitet Ihnen gerne ein individuelles Angebot.

With the MyOdoo Nextcloud Connector we have created the possibility to link Odoo and the Nextcloud with each other and to exchange documents bidirectionally. A clear folder structure is created in Nextcloud. Documents can be accessed directly logged in to Nextcloud or directly from Odoo. The user can also upload documents in the Nextcloud folders, which are then automatically linked again in Odoo.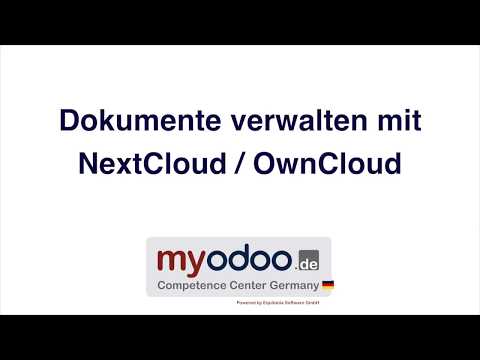 The module ownERP Nextcloud Connector consists of the module eq_cloud_base and eq_cloud_nexcloud. This is the technical name for our module. Of course we have also included the module in our Modulw Wiki documented for you. The added value of this app is that you can work bidirectionally with the documents in Odoo. That means you can synchronize documents in both directions from Odoo to the cloud and from the cloud back to Odoo. A clear order structure is automatically created.
Let's jump to the settings for the cloud. The advantage of Nextcloud, for example, is that you use your own cloud. This means that the system is hosted on your own server and not on a third-party server. So the data is on your own server. The installation is also quite simple. All you have to do is enter the access data for your server, the user name and password as well as a root folder, which will be created directly on your server afterwards to create the folder structure.
Also check the box Activate Cloud - without this check mark no synchronization will take place! You can then briefly check in the connection test whether your connection is successful. In this application a service is running, which synchronizes the data just in time between the two systems. when you log in to your nextCloud, you can already see that data has been stored in this cloud and the root folder has been created.
All common file formats such as JPEG, text files, Word or Pdfs are supported by the MyOdoo Nextcloud Connector.
A document that is added to a customer in Odoo, for example, appears almost simultaneously in the corresponding folder in the Nextcloud. The same the other way round: a document that has been uploaded in the Nextcloud will also appear in the customer's odoo system under attachments shortly afterwards. In developer mode, you can also see the cloud path. A smart button can be used to switch directly to OneDrive.

To store project documents, you need an additional module called eq_cloud_nextcloud_project, which adds synchronization for all project documents and their root folders.

The configuration effort is very low and there is no need to create folders manually. These are the main features of the MyOdoo Nextcloud connection for Odoo 12 and 13.
You can find the detailed module documentation in our Wiki

Starten Sie noch heute Ihre Anfrage zu unseren Paketen!

Unser Team wird Sie gerne beraten.